LAS VEGAS (KTNV) — Plans are being unveiled for a Las Vegas Spaceport.
On Monday, new details and renderings were released as part of an SEC filing. The facility would be located on a 240-acre plot in Clark County that officials said would be about a 15-minute helicopter flight from the Las Vegas Strip.
According to the filing, the facility would cover a wide range of services and facilities catering to different aspects of the industry. The Las Vegas Spaceport would operate its own fleet of space planes and provide space travel experiences to tourists and enthusiasts.
The SEC filing states there is proof of concept in the market today since Space Perspective, a company that is selling rides on their 10-man capsule, has already sold 1,250 seats for $125,000 per seat. Las Vegas Spaceport officials said they're projecting they can do 15 flights a month with six passengers and two crew members.
Other plans listed in the filing include a Space Pilot School where pilots can learn navigation and control systems, emergency procedures, and mission planning. The company adds this is important since currently, there are no standardized flight training procedures for non-NASA space pilots. The SEC filing states they're projecting to bring in about $75,000 per student every year when it comes to tuition for space pilot training.
Spaceport officials said they're also looking at providing training programs to help people acclimatize to space.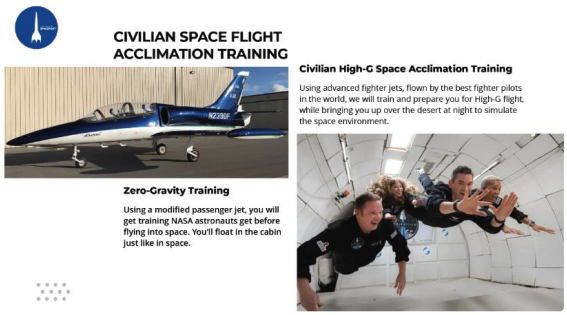 The Spaceport would also provide hanger space for space vehicles, which is needed since the company said there are currently over 37 companies that are in the process of getting approval from the FAA to operate space vehicles.
There are also plans for a Post-High School STEM Academy. According to the SEC filing, the academy would generate revenue through tuition fees from students enrolled in various programs. The company is projects each student would pay about $50,000 per year in tuition.
"Our first step is to build a facility where we can nurture the next generation of scientific innovators and space explorers," said Robert Lauer, Developer and CEO of Las Vegas Spaceport. "Our proposed education facility will provide a comprehensive curriculum designed to inspire students to pursue careers in aerospace, engineering and related industries. In addition, we will train tomorrow's space pilots."
In addition to the Spaceport facility, Lauer said there are plans to build a hotel along with a passenger terminal to facilitate arrivals and departures. There will also be a rooftop observation deck and a restaurant. The SEC filing states the Spaceport would also offer helicopter tours and take in aerial views of the facility as well as the Las Vegas Strip.
According to the filing, the Las Vegas Spaceport holds an FAA license and the company is also looking at building a state-of-the-art Space Research & Development Center.
The Las Vegas Spaceport was incorporated in December 2022 and the company said that as of Monday, they do not have active customers. They said they'll be using any funds they raise towards licensing and permits, purchasing land, and one aircraft for Zero G gravity flights.
Right now, the company said they haven't received any investments and are currently raising money with a target of $5 million. You can learn more about the project here.